Bufflehead Sailing Canoe

Zurück zur deutschen Version dieser Seite.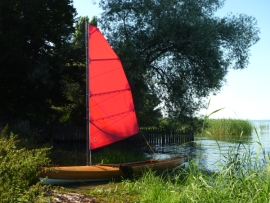 is an innovative decked expedition canoe for one or two persons, versatile, with easy handling and beautiful design. It can be paddled as well as sailed, which is important in fluky winds.
You may notice that this design looks right at first glance. This canoe is beautiful, because hull, deck and rig are in harmony. It is functional, because all unnecessary parts are omitted. Bufflehead looks as relaxed as her skipper, in a spacious cockpit on a comfortable seat, sheet and rudder in hands, as close to wind and water as possible. Most modern designs look tense, impatient on their mooring, as if they could not wait to plow the water at 20 knots, minimum. This boat fits its surrounding, looks like she belongs to here and now, and her well-being is infectious. She is Zen, radiating an atmosphere of meditative calmness. Unpretentious. Functional. Consistent. Simply beautiful.
When the Canoe Learned to Sail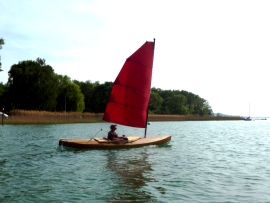 Canoe sailing has some history. Some 150 years ago, it was absolutely en vogue among the young gentlemen. The sailing canoe was not only used for entertainment between supper and tea but also for expeditions: John MacGregor took long spectacular trips along the coast and wrote several books on that subject. But around 1900, travelling by bycicle on the then idyllic streets was invented, and the sailing canoe went out of fashion.
Bufflehead relates strongly to these boats, but she is built with modern materials and state-of-the art building techniques. Ironically, it is one of the few designs from which you can look up to an overpowered motorboat with relaxed amusement.
A "50-50"-Canoe...
Such designs are always the result of long experience. The designer, Hugh Horton, has travelled several thousand miles in a variety of small boats in the last decades until he designed his perfect escape machine. He calls the design a "50-50-canoe: Sail when you can, paddle when you must". Accordingly, the canoe has enough buoyancy out of its full bow and stern sections to be a good sailor, and it is just wide enough to tolerate sufficient sail area. On the other hand, Bufflehead is narrow enough to be paddled with a double paddle. The battened sail on the short mast and spars has a perfect shape and can be reefed several times. When paddling the whole rig is stored easily inside the boat. Bufflehead has enough payload for camping gear and food for one or two weeks. The spacious cockpit can carry one additional passenger, which means security in an emergency situation. A spray skirt would close the cockpit and help against water ingress.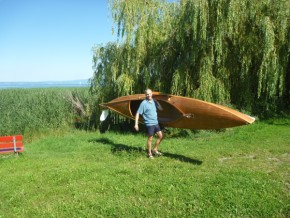 Nevertheless, the boat is so light that you can carry it over the shoulder into the water - much lighter than a decked fiberglass canoe off the shelf. You can sleep comfortably inside the hull, with a mosquito net over the cockpit - or with a tarp when it rains. Two of these canoes fit on a car top. When not in use, you can stow Bufflehead in a garage under the roof where she does not need much place. The boat needs no licence and costs no tax. Despite all these features and assets, the very functional design does not look overconstructed. Indeed, it looks like Hugh Horton on his journeys did not think but rather meditate about it until every part of the boat found its natural place and its easiest shape.
... for Experienced Sailors...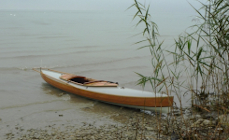 Bufflehead can be sailed very wet and wild. Due to its small breadth, she needs either a prudent or very agile skipper. In spring and autumn, a dry suit or a wet suit is advisable. The boat has flotation bags inside, but you should also carry a life jacket. If you want to cruise several days, you need some grassy or sandy spot or a camping ground in the evening for cooking and relaxing.
... and Virtually Unlimited Use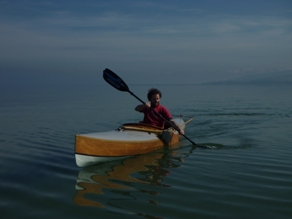 It is unbelievable how versatile the boat is. Do you dream of an afternoon on the Lake Constance, a weekend on the Swiss Walensee followed by a descend through the Linthkanal, a month holiday on the East German lakes or the lagoons on the Baltic coast, a trip on the Loire, Rhone or Danube, along the Italian or Croatioan coastline or the coast of Cape Horn? Treated with excellent seamanship, this boat can be used for all these trips like no other one. Bufflehead offers more fun for less money, more seaworthiness per kilo than any other boat. I have tested the boat extensively around Elba and on several swiss lakes and could not find any faults! Click here for the technical details and equipment.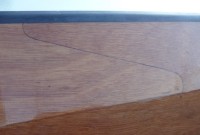 Bufflehead is not an easy boat to build. The reason is not its functionality: other designs, like Bolgers Peero, are nearly as versatile, but look like floating shoe boxes. Bufflehead´s aesthetics and the modern ultralight building technique, KevlarTM and carbon fibers, make the hull extremely tough but drive the price up and increase the construction time. Experts can build the boat so accurately that it can be varnished.
A layer of KevlarTM inside makes the fuselage very resistant to puncture. The rig is a carbon fiber laminate.
Disclaimer
This is definitely not Queen´s English. If you are a native speaker, please help me to improve this page. Your suggestions are very welcome. If you would like to read other pages in English, please mail me and I will try to translate them.
Back to top
Back to main page