Technical Data & Components
Zurück zur deutschen Version dieser Seite.
Technical Data
Length: 4,70 m
Width: 0,84 m
Draft: 10,9 cm
Sail area: 5,2 qm
Cartop weight: 23,6 kg
Weight, ready to sail: 36,9 kg
Displacement: 172,5 kg
Components
The components of the Bufflehead sailing canoe are simple but very high quality, light but built to last. I am sure they are more beautiful and more functional than other systems currently on the market.
Incidentally, these components can be used to upgrade any conventional paddling canoe. It is possible to transform your canoe into a sailing canoe which is almost as fast and as versatile as a Bufflehead sailing canoe.
Hull and Deck
Hull from 3-4 mm marine plywood, with a KevlarTM sheathing inside and fiberglass sheathing outside.
Deck is strip-planked or made from plywood, sheathed with fiberglass inside and out. Stress points are reinforced with carbon fiber.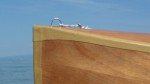 The rub strake made from KevlarTM tape is much lighter and more robust than a conventional wooden rub rail! The wooden rub rail gets scratched and dented very quickly and then looks shabby. The KevlarTM tape, however, is very resistant to abrasion.
Underbody protection
The underbody of the hull receives a graphite-epoxy coating, then two layers of two-component polyurethane paint. This coating is durable and extremely hard. It is very easy to repair: Scratches are sanded and filled with epoxy-graphite. A fresh layer of white paint, and the underbody of the hull looks like new.
Rudder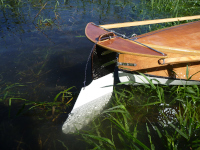 Rudder and steering are made from plywood, reinforced with carbon fiber and KevlarTM tape. The rudder blade is a painted aluminum plate. Steering rods are made of spruce. Weight of the rudder without rods: 1'200 g. Weight of the steering rods: 900 g.
Leeboard

Laminated from clear western red cedar, the upper part is reinforced with carbon fiber, and the leading edge is reinforced with a glass fiber cord. Profile is NACA 0012. Rotational axis made from aluminum pipe. Total weight: 1'100 g. For the leeboard mount a carbon-KevlarTM leeboard mounting tube is inserted directly into the deck and stiffened with a plywood bracket, carbon fiber and KevlarTM tape.
Mast and Boom
Three-part carbon mast, rotating freely without shrouds. The Bufflehead Rig can be easily removed on the water and completely stowed in the boat. When reefing, the mast is shortened accordingly. Separate masthead with a guide for the halyard. Half wishbone boom made from carbon fiber. Total weight of the rigg: 1915 g. The illustrated mast was made by Ron Sell.
Sail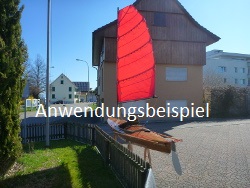 Fully battened 5.1 sqm sail with two one-hand reefs. (If you can't reef in high winds, capsize is only a matter of time.) The one-hand reef is very easy to use and the shape of the sail is just perfect. Red for good visibility. Weight: 1'600 g. This sail can be ordered here.
Seat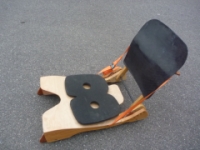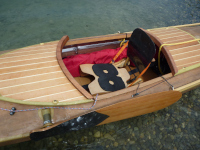 The ergonomic backrest made from carbon fiber is fully adjustable like a car seat. Must float and may be also used as a camping seat. Seat height is adjustable; low for sailing and high for paddling. In order to shift my weight to windward, I move the seat 15 cm to port or starboard. Fore and aft, I vary the seat position by about 60 cm; forward to tack against light winds, aft for planing downwind. With this seat, I am relaxed and comfortable after a long sailing day. Weight: 2´300 g
Spray boards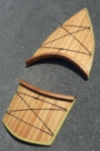 The arched spray boards shed the front and rear part of the cockpit against spray and the occasional small wave. They can easily be removed, so the interior of the boat is easily accessible. Both parts weigh only 2´450 g. The ultralight pad eyes with elastic cords are very useful to hold luggage or compass, GPS and some water. They are real eye catchers. It pays to use pretty wood and an interesting planking pattern. What about a wood inlay - wind rose, sea horse, delphin or fairy tern?
Soft pad eyes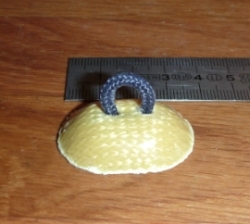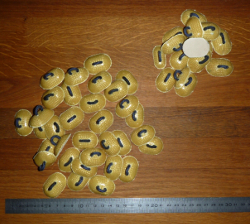 The inflatable flotation bags must be strapped into the hull. In case of a capsize, mast and sail, bailer and sponge, seat and watertight bags should also be tethered or they would swim away.
You will need a lot of pad eyes inside the boat. On deck they are used to fix nets or elastic cords. My soft pad eyes are safe: you cannot hurt yourself or rip your clothes or catch a knee cap. I build them from KevlarTM, small and beautiful and with a weight of 2-3 g extremely light.
Disclaimer
This is definitely not Queen´s English. If you are a native speaker, please help me to improve this page. Your suggestions are very welcome. If you would like to read other pages in English, please mail me and I will try to translate them.
Back to top
Back to main page